Our services in prospect:
Through the passing years Blechtechnik Bulgaria ltd. has proven itself with its flexibility and metal working capabilities to be one of the leading metal fabrication subcontractors in Bulgaria and abroad. Through that period we have build up outstanding business relations and partnerships with most of the high efficient and capable sheet metal processing, machinig and surface treatment companies not only in Bulgaria, but through out most of the eastern European countries.
The focus of our portfolio is on CNC sheet metal processing of thin sheets with a thickness of 0.5 to 6 millimeters. Of course, our machines are also able to fabricate other sheet thicknesses. Turned and milling componets is a sector that we strongly develop and have free capacity for high production series.
In order to keep the effort for you as low as possible, we program and design up to the final metal processing on our own. Whether samples or serial production – we process sheet steel, aluminium, V2A, brass and many other materials in all quantities.
With the MIG, MAG and WIG processes, we also carry out professional welding work. We take over complete welding constructions and assemblies for you. However, you are welcome to entrust us with the production of individual parts. We provide every metal production process you need, when It comes to sheet processing work, steel constructions, apparatus and machine engineering, sheet metal design, wheeled cabinets, electrical enclosures for the industry and much more.
If you need corrosion protection and visual coloring, our powder-coated or otherwise galvanic refined parts may best suit your needs. – Even then we are your competent partner for high-quality surface treatments we have been working together with reliable partner companies for our services. many years.
As sheet metal parts producer our general focus is the sheet metal parts production with core specialization in overall laser cutting service and tube laser cutting production. Our machines are mostly suited to enhance laser cutting service and tube laser cutting production for many industries that require sheet metal parts production by sheet metal parts producers. We supply business to business partners with a variety of laser cutting service including tube laser cutting production. Our laser cutting service is our strongest advantage and we can proudly say that our sheet metal parts production makes us one of the most cost-effective sheet metal parts producers  in the region.
Our sheet metal processing and machining capabilities are growing every day, since the day we focused our metal production to western Europe to open free metal fabrication capacities for our future customers. Thanks to all the companies that trusted us to be their sheet metal product subcontractor, we managed to develop one of the most productive companies in high and mid quantity series productions to becaome a valuable metal product provider.
We have opened a new excenter press production line: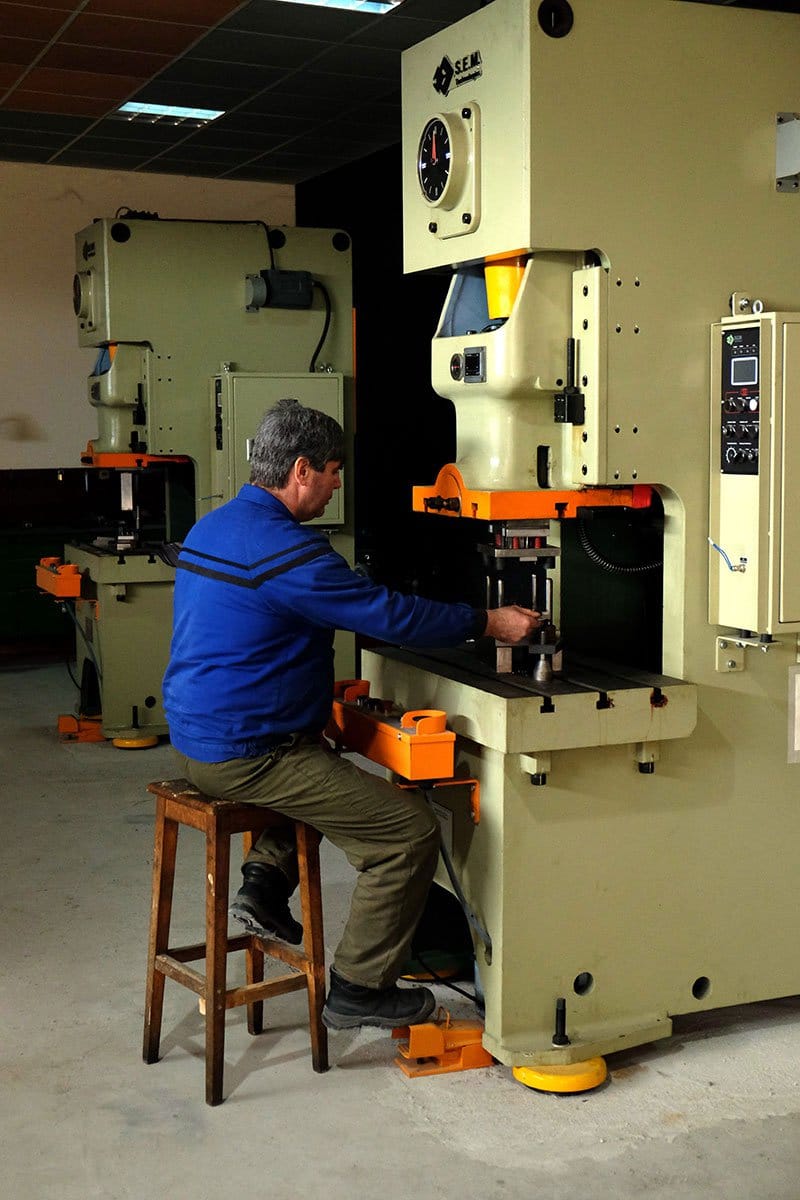 With our new production line we are now capable of reaching competitive prices for lagre badges. The 5 excentric presses are placed in a production line to achive multiple machine manipulations such as - cutting, punching, stamping and cold forming with high efficiency.
LARGE AND MEDIUM SIZE PRODUCTION
Workpieces & Parts
Covers & Housings
CUSTOM PRODUCTION
Sheet metal cabinets
Apparatus & machines